Here at the Grange Vet Clinic we are proud to sell and support a 100% Australian made super premium dog and cat food that is made by the company N.B. Petfoods Pty.Ltd. in Fremantle WA. Foods within this range are appropriate for all stages of life from a growing kitten/puppy to a senior dog or cat living out its years. The food can also be used as part of a veterinary treatment plan.
The range of Delicate Care that we stock include:
Weight control – Delicate Care Weight Management Dog Food will manage your dog's weight while keeping your dog satisfied with a food that is palatable, low in glycaemic index and high in dietary fibre. Delicate Care Weight Management Dog Food also contains an array of functional ingredients to help minimise body fat as well as boost immunity.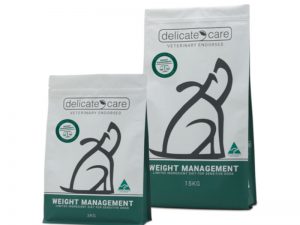 Mobility – Delicate Care Mobility Dog Food is specifically formulated for dogs of all ages susceptible to mobility issues, or as a preventative maintenance diet. It is also suitable for dogs suffering from common food intolerances. It includes green-lipped mussel, glucosamine and chondroitin as well as celery seed extract.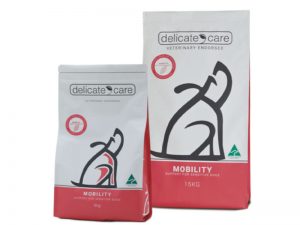 Delicate Care Dental Diets for dogs and cats is fortified with Biodental, a unique blend of phyto-derived organic acids, functional ingredients and botanicals. The phyto-derived organic acids in Biodental assist with the reduction of dental biofilms.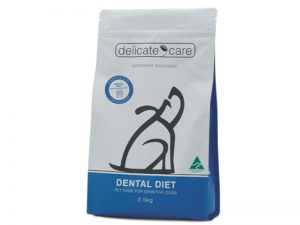 The kibble in Delicate Care Dental diets have been made to a size, shape and density that have been shown to be important in the mechanical reduction of calculus on teeth.
Delicate Care Skin or Stomach for dogs and cats is scientifically formulated for dogs/cats with sensitive skin or digestive systems. While most commercial pet foods use corn or gluten-based grains, Delicate Care proudly use sorghum as a highly digestible, low GI base, paired with prime Australian kangaroo and duck as the main protein sources. By eliminating the most common food allergens, the aim is to stimulate and maintain a healthy immune system naturally.